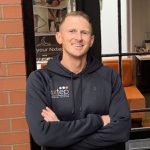 Chris Nicklin is a certified Personal Trainer with over 7 years' experience, and the owner of Nxtep Personal Training. Chris qualified from Edge Hill University with a Bachelor of Science (BSc) degree in Sports Coaching and Performance Development, and has delivered over ten thousand one-to-one Personal Training sessions.
Published 14/07/2023
Understanding the Physical Demands of Airline Piloting
Airline pilots endure a range of physical challenges while operating in the cockpit. Prolonged sitting, exposure to vibrations, and changes in cabin pressure can have various effects on the body. According to research conducted by aviation experts, these factors can lead to decreased blood flow, muscle fatigue, dehydration, and increased susceptibility to deep vein thrombosis (DVT). It is crucial to understand the specific physical demands pilots face to design effective training programmes that address these challenges. Cabin crew are not as likely to develop DVT as pilots because they're always on the move, whereas a pilot is usually sat down for many hours at a time.
Check out our great Google reviews!
Effects of Irregular Schedules and Time Zone Changes
The aviation industry operates around the clock, subjecting pilots to irregular work schedules and frequent time zone changes. These disruptions can disrupt sleep patterns and interfere with the body's natural circadian rhythm, leading to fatigue, decreased cognitive function, and increased risk of errors. Managing sleep and adjusting to new time zones are crucial considerations for pilot well-being. Research suggests implementing strategies such as light exposure management, strategic napping, and sleep hygiene practices to mitigate the effects of irregular schedules and time zone changes on pilots. Incorporating these strategies alongside a bespoke personal training programme designed for pilots can optimise sleep patterns and enhance overall well-being.
Stress Management and Mental Wellbeing
Piloting an aircraft comes with immense responsibilities and high-pressure situations. The ability to manage stress effectively and maintain mental well-being is paramount for pilots. It is well known that physical exercise is one of the great stress relievers, but finding time as a pilot can be tricky. However our personal training programmes can be planned in around your schedule, no matter how irregular it may be.
It's not all about physical exertion though – research shows that mindfulness practices and stress management techniques can significantly reduce stress levels and improve mental well-being. By incorporating these practices into your life as well as personal training, pilots can enhance their overall mental resilience and performance.