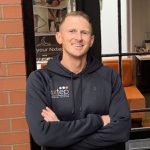 Chris Nicklin is a certified Personal Trainer with over 7 years' experience, and the owner of Nxtep Personal Training. Chris qualified from Edge Hill University with a Bachelor of Science (BSc) degree in Sports Coaching and Performance Development, and has delivered over ten thousand one-to-one Personal Training sessions.
Updated 5/10/2022
Many cyclists do not realise that strength and resistance training can improve cycling performance and should be a part of any cyclist's exercise regime. If you want to improve your cycling performance, working with a personal trainer could be the way to achieve your goals. At Nxtep, we will design a bespoke personal training regime for you and your specific ability, fitness and goals, involving a mixture of weight training, flexibility and of course bike work. Together with the 24/7 support and complete meal plan we provide, you will see rapid improvements in your cycling game.
Check out our great Google reviews!