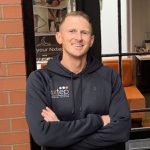 Chris Nicklin is a certified Personal Trainer with over 7 years' experience, and the owner of Nxtep Personal Training. Chris qualified from Edge Hill University with a Bachelor of Science (BSc) degree in Sports Coaching and Performance Development, and has delivered over ten thousand one-to-one Personal Training sessions.
Updated 29/9/2022
Couples can often find themselves putting on "Relationship weight". Sometimes this can be because your partner eats more than you, so you end up eating their portion sizes. Commonly though, it can simply be a consequence of feeling content and happy in your relationship. However, putting on weight together is a lot easier than losing weight together! Often one person is ready to try and lose weight before the other, so they end up exercising alone.
Our personal trainer for couples programme enables couples (even those with differing levels of fitness and different goals) to exercise together, which many people find more motivating and great for their relationship.
It's also cheaper than one-to-one personal training as you split the cost! To save even more money and make friends while you're at it, you can try small group personal training.
Check out our great Google reviews!