With the advancement of the digital era, an increasing number of workers spend the most of their working day at their desks – and since Covid, many are even more sedentary, with people working from home more and missing out on the simple exercise of walking to work or to the train station.
Additionally, the work/life balance is shifting. Workplace hours are growing while personal time is diminishing, and unfortunately, exercise is generally the last thing on a busy person's schedule.
Nxtep partners with companies to deliver corporate fitness training as one-time activities, such as team building, or as continuous programmes.
We can offer group fitness sessions at your office, close by in a suitable outdoor location, or you can come to the Nxtep studios in Knutsford in a small group of up to 5 people at a time for your sessions.
Benefits of corporate fitness for your business:
Increased employee retention
Improved recruitment rates
Reduction in healthcare costs
Reduction in employee absenteeism
Improvement in employee morale
Increased productivity
Better teamwork
Less stress for both employees and employers
Check out our great Google Reviews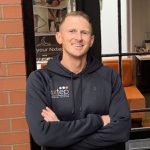 Chris Nicklin is a certified Personal Trainer with over 7 years' experience, and the owner of Nxtep Personal Training. Chris qualified from Edge Hill University with a Bachelor of Science (BSc) degree in Sports Coaching and Performance Development, and has delivered over ten thousand one-to-one Personal Training sessions.